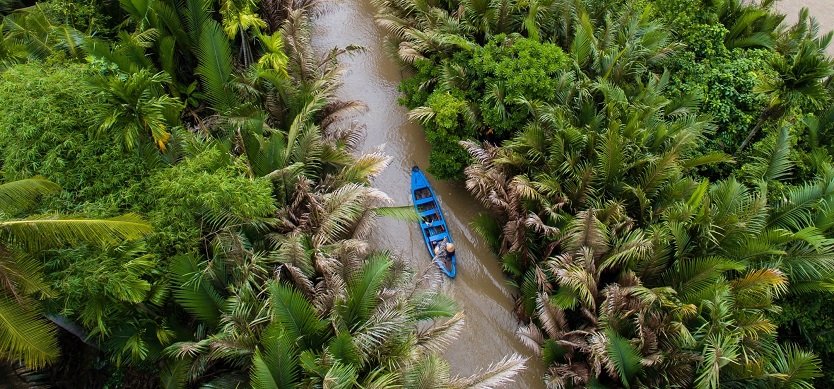 All you need to know when traveling to Mekong Delta
All you need to know when traveling to the Mekong Delta
Mekong Delta is a very peaceful and beautiful place that can make your trip unforgettable.
Spending many years traveling around Asia, I found that this region has its own characteristics that make it different from others.
So, what do you need to know when coming here? Read our post below to plan well for your upcoming trip!
A brief look of Mekong Delta
Mekong Delta region is partly located in South Vietnam, with an interlocking system of canals and 2 distinct seasons including flood season and dry season. Therefore, traveling solo to Mekong Delta requires you to have knowledge and experiences about the time, means of transportation, as well as how to protect yourself in the region.
If possible, you should take a tour so that you won't need to prepare anything and it will also be safer. Otherwise, the article will guide you to discover Mekong Delta in the most comfortable and safest way.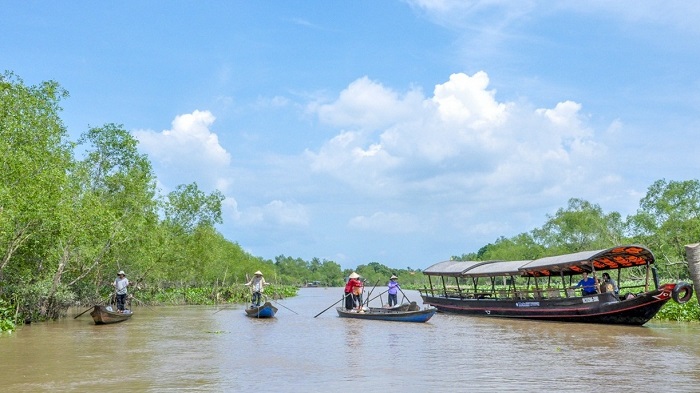 The rustic Mekong Delta
How to get to Mekong Delta
By plane
The plane is the most convenient and fastest way for travelers. The largest airport in the Southwest is Can Tho Airport.
You can go to Can Tho airport and take a passenger bus to other provinces in Mekong Delta.
By passenger bus
You can go to Western Bus Station (address: 395 Kinh Duong Vuong, An Lac Ward, Binh Tan District, Ho Chi Minh city), then buy tickets to get to many Western provinces.
Motorbike
If you depart from Saigon, you can choose a vehicle like a motorbike because traveling by motorbike will have the advantage of itineraries and time that you can explore any places you want throughout the journey.
Almost Mekong Delta attractions are in the countryside, so the road will not too easy. Besides using a map, you can ask the local people, drivers, or motorbike taxi drivers, etc for direction.
There is one more disadvantage of traveling to Mekong Delta by motorbike that you need to bring along your vehicle when transferring on the river.
Boat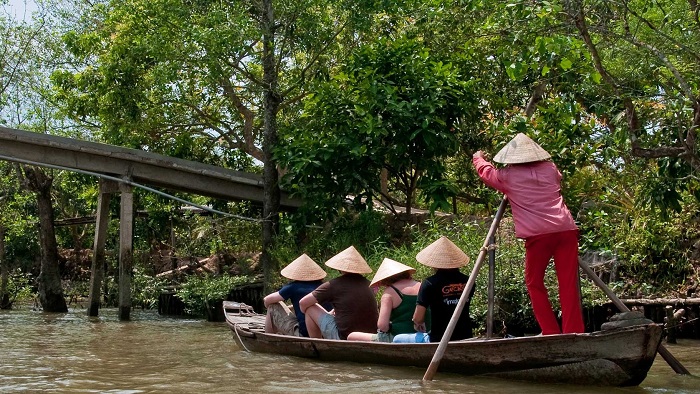 Boat to Mekong Delta
Traveling to the Mekong Delta river, going by boat is obvious. Because you go there alone, you should ask the host in your accommodation or local people to buy a boat ticket.
You will have a chance to go along the canals to explore rice fields, fish farms, floating houses, melaleuca forest, bird sanctuary, or many islands and orchards, etc.
Accommodation in Mekong Delta
Traveling to the Mekong, you will have to move a lot, so if you want to save money, you just need to find a place to sleep at night and store your luggage when you explore the attractions of Mekong Delta.
Many cities of Mekong have various hotels and hostels for you to choose with full of necessary facilities at an affordable price.
Moreover, in order to make your trip to be more interesting, you should ask to stay at the resident's house in the form of a homestay.
You will have the opportunity to eat with the host family and work with them to better understand the personality, people, and customs here.
Prepare for your trip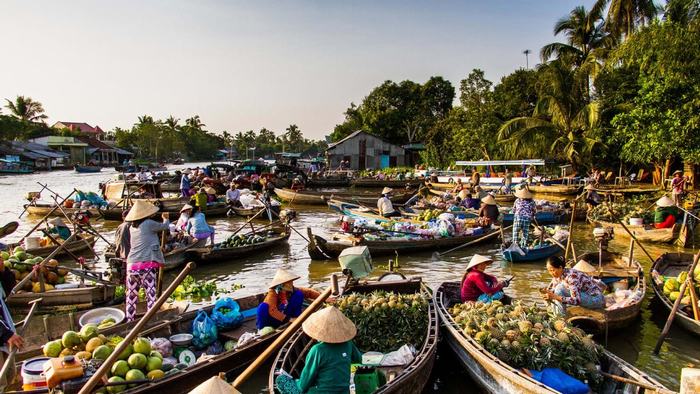 Floating Market in Mekong Delta
Health is the first thing you should not ignore. In Mekong Delta, you have to move a lot between the locations and bring your luggage on your own, so you should bring as little as possible but remember to prepare all the necessary clothes to avoid sunlight and rain.
Since the Mekong Delta region is quite dirty, you should not bring a white cloth. Also, painkiller, stomach drug, balsam, sticking plaster, and mosquito repellent, etc are very useful in the long journey.
Going alone, you should be very careful about your safety, personal papers, and money. You should inform your friends or family about the detailed itineraries as well as where you'll stay.
You can divide your amount of money into many parts and keep them in various places in your luggage, pants pocket, or bag, etc. The best way is that you should keep a sufficient amount of money, and the rest is kept in your bank card.
For your personal papers, you should scan and make many photocopies to avoid being lost or stolen.
The best time to visit Mekong Delta
With a warm sunny climate all year round, the weather in the Southwest region is very comfortable, so tourists can visit Mekong Delta in almost seasons of the year. Each season brings to the area unique and distinct characteristics.
Usually, summer (June, July, and August) is the ripe fruit season in the Southwest so if you like to explore the lush fruit gardens, you should go there in the summer. Tien Giang, Ben Tre, Vinh Long, and Can Tho are the most popular spots for travelers with rich sources of tropical fruits.
From September to November is the flood season. Hence, coming to the Mekong Delta in this season, you will see the rice fields filled with water. Furthermore, tourism in the Southwest this season is most attractive with various activities to enjoy and places to explore, from the canals along Phoenix islet, Tra Su melaleuca forest, rice fields in Ta Pa, An Giang, Tram Chim National Park to floating houses in Chau Doc, Tan Lap, or Cai Rang and Cai Be floating markets, etc.
From December to February is the time right before the Tet festival in Vietnam. Coming to the Southwest, you can visit many famous flower villages such as Sa Dec, Tan Quy Dong, Vi Thanh and immerse yourself in the bustling atmosphere here.
Mekong Delta with several unique characteristics along with friendly and hospitable people is very ideal for a solo trip, making travelers feel peaceful and not lonely. For further information, feel free to contact us or visit our website. If our guides are useful for you, don't hesitate to like and share it with others. Thank you.