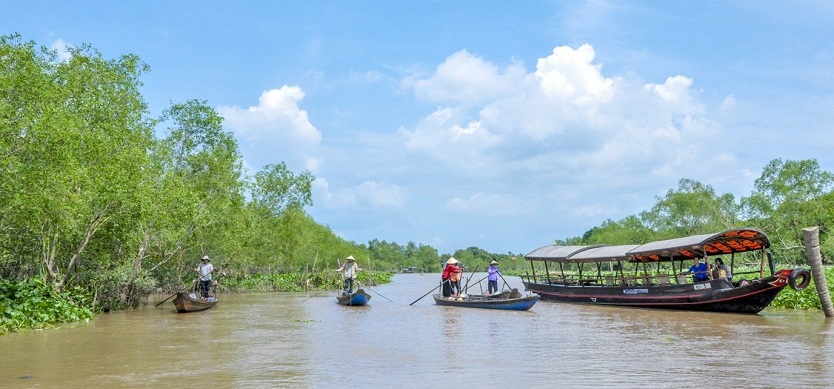 What to know about the famous An Binh Islet in Mekong Delta?
As a highlight of the Mekong Delta, An Binh Islet is a must-see destination when traveling there.
With many typical features of the region, this place will definitely bring tourists exciting experiences.
So, if you're planning to visit this spot for your next trip, then do not miss the post below.
Where is An Binh Islet located?
Covering an area of about 60 square kilometers, An Binh Islet is located between Tien River and Co Chien River, consisting of the territory of four provinces An Binh, Binh Hoa Phuoc, Hoa Ninh and Dong Phu of Long Ho district, Vinh Long Province.
An Binh Islet is like a lush oasis with orchards and interconnected canals. This is indeed an attractive eco-tourism destination in the Southwest. From Vinh Long city, visitors can easily take a ferry to An Binh.
What to know about An Binh Islet?
Orchards are the pride of local people here with a lot of kinds of fruits such as longan, rambutan, mango, durian, jackfruit, pomelo, plum, Ambarella, custard apple, lansat, sapodilla, and mangosteen.
Binh Hoa Phuoc Commune has an eco-tourism garden in the form of homestays such as Mr. Ba Hung's garden, Mr. Mai Quoc Nam's garden, Mr. Muoi Huong's garden, and Mr. Cai Cuong's old house.
Dong Phu Commune: has Mekong Aquaculture Farm tourist area – Dong Phu. Here, tourists can experience fishing in small canals and are instructed to prepare themselves for simple foods. Tourists also can watch My Thuan bridge at sunset with friends.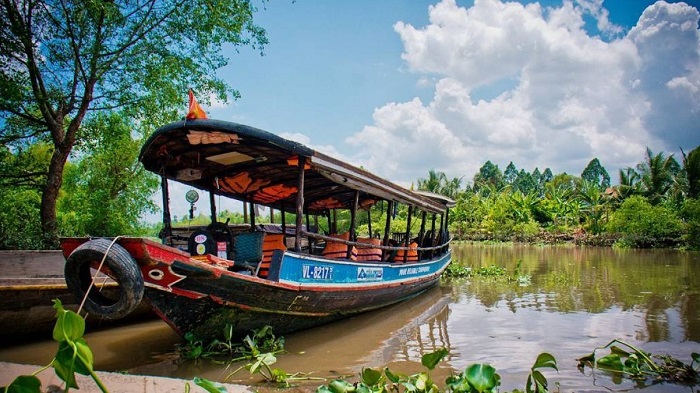 An Binh Islet
Hoa Ninh Commune: has Mrs. Bay Thoi's tourist garden, Mr. Tam Ho's special seedling nursery or Mr. Muoi Do stilt house. This house is built on the river. Behind the house are longan, pomelo and sapodilla gardens which are suitable for ecotourism. It is usually selected by tour operators as a stopover in the boat trip.
There is also an ornamental garden with the plants of yellow apricot, jasmine, and orchid. The house is surrounded by a longan garden and a pond of fish. The foreign tourists enjoy this kind of fish – where they can understand the culinary art of people in the Southern region.
An Binh Commune: has tourist attractions such as the yellow apricot Ap Phuoc Dinh village, Ngoc Ly plum garden, Mr. Chin Can's rambutan garden, overnight at garden houses of Mr. Tam Tien, Mr. Nam Thanh or Mr. Ba Linh.
The garden owners also serve meals with simple dishes such as grilled snakehead fish, fried spring rolls, chicken porridge.
Also, tourists can visit Tien Chau pagoda, right next to An Binh ferry to learn more about the cultural beliefs of the locals. The pagoda is officially named Di Da, which was recognized as a national-level cultural and historical relic.
Speaking of An Binh Commune, we cannot ignore Vinh Sang tourist farm – voted as one of four most attractive destinations in 2009 by the Mekong River Tourist Association with a lot of exciting games such as crocodile feeding which helps players visualize a journey of natural exploration of the Southern region hundreds years ago, ostrich riding, going through bamboo monkey bridges, grass sliding or bike riding around the villages.
Must-see tourist destinations in An Binh Islet
Tien Chau Pagoda
Location: On the left bank of Co Chien River in Binh Luong Hamlet, An Binh commune, Long Ho district, Vinh Long province.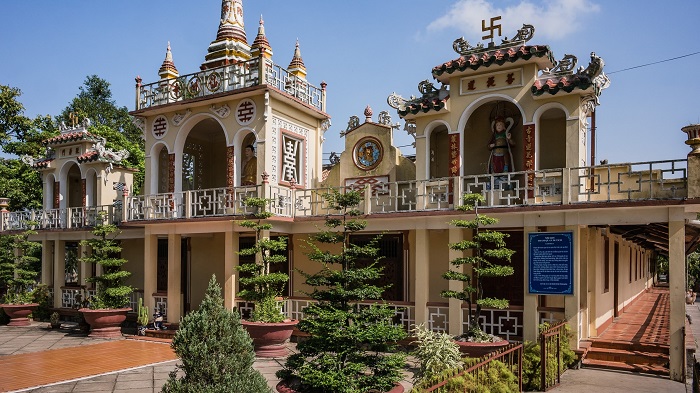 Tien Chau Pagoda
The pagoda covers an area of about 7,500 square meters with two entrance gates and outstanding brick fences. There are two large bodhi trees in front of the temple compound and the Bodhisattva Guan Yin statue. The temple was restored four times with the last time in 1992. The shrine is decorated solemnly with many sophisticated statues such as Bodhisattva Guan Yin, Bodhisattva Bodhisattva, Ngoc Hoang, Nam Cao, Bac Dau, Minh Vuong. The pagoda was recognized as a historic monument by the Ministry of Culture.
Mr. Muoi Day's garden
Mr. Muoi Day's stilt house is the most beautiful wooden house in An Binh islet with typical fruits such as longan, pomelo, and sapodilla. This is a favorite stopover of guests for lunch and overnight stay. Here, visitors can have delicious meals with specialties of Vinh Long at a reasonable price.
Homestay service in An Binh Islet
Vinh Long province has long been famous for the homestay tourism type which An Binh has the most this service. Coming here, tourists can eat and stay together with locals. Thereby visitors will have exciting experiences about the culture and life of the people here. Some most popular homestays here are Sau Giao, Ba Hung, Mai Quoc Nam, Muoi Huong, and Cai Cuong old house.
We hope that with our information, you will have an unforgettable trip when traveling to this destination. If you concern more about Mekong Delta, please visit our website. Do not hesitate to contact us if you have any questions. Share this article with others if you find it useful. Thank you!