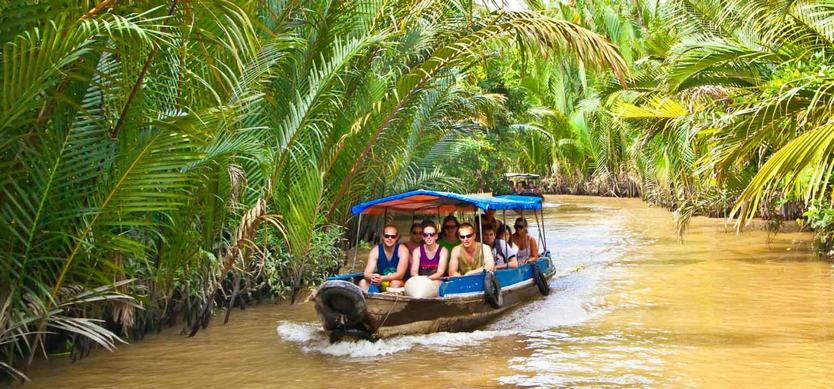 The best time to visit Mekong Delta
The Mekong Delta is one of the highlights of South Vietnam thanks to its abundant nature, warm people and distinctive cultures.
When it comes to planning a trip, what is the thing that you're concern about most?
It may be where to stay, where to visit or what to eat. What about the best time to visit?
If you're about to visit this region and have not decided when to go yet, then this post below might be helpful for you.
A brief of climate in Mekong Delta
Mekong Delta lies in the tropical monsoon climate with the annual average temperature of the year ranging from 23 to 24 degrees Celsius.
There are two distinct seasons including the rainy season and the dry season. The rainy season lasts from May to November and the rest is the dry season.
Especially during the year, there is also a flood season starting from July to November. In some provinces, it occurs in September and October, depending on each year.
In this region, there are not many storms or weather disturbances.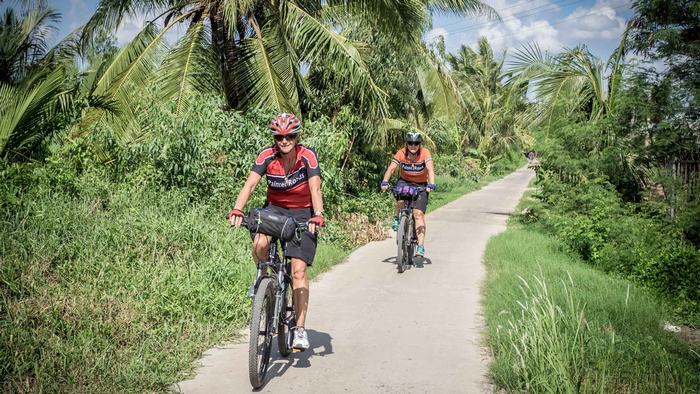 Cycling in Mekong Delta
The rainy season in Mekong Delta
Due to the tropical low pressure flows in mainland Asia at that time, it often has heavy rains. Nevertheless, the rain changes unexpectedly.
There might be sudden soft rain while it is sunny or it might rain a few minutes then stop.
In the flood season, an enormous quantity of water from rivers flow into rice paddy fields. It brings along with sediment providing copious nutrients for rice and bring a bumper harvest.
Tips when traveling in the rainy season
For every trip, check the weather forecast before you go to make sure your trip runs smoothly.
So, what should you prepare for your travel?
Firstly, a raincoat is a must to deal with unexpected rain. You can easily buy a disposable raincoat at vendors on the street at a very cheap price. Or if you tend to spend a long time here, you had better buy a high-quality one.
Other necessary items include sunglasses, slippers, sunscreen, and a hat. Light clothes are the best choice for the hot temperature.
To avoid strong sun and UV light to protect your skin, hat and sunscreen are important.
In the rainy season in Mekong Delta, there are a lot of mosquitoes, so do not forget to bring mosquito repellent and sleep with a mosquito net.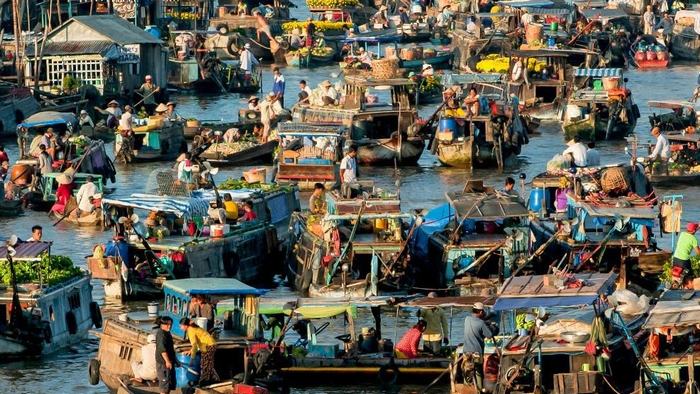 Floating market in Mekong Delta
The dry season in Mekong Delta
In the dry season in Mekong Delta, the rainfall is quite low.
The most comfortable time in this season is from December to January when the temperature is cooler.
It's hot all day in other months. And drought and saltwater intrusion occur at that time.
Tips when traveling in the dry season
Because of the hot weather, you should wear light clothes for comfort. As in the rainy season, sunscreen and mosquito repellent are necessary things. You can wear sneakers or athletic shoes to move easily.
As it's very hot in the dry season, you should bring a bottle of water during your trip or try drinking on the way traveling sold by vendors such as cane sugar juices, coconut juice…
So, when is the best time to visit Mekong Delta?
Traveling in Mekong Delta
The answer is… at any time of the year. However, if you do not want to be disturbed by rains, go there in the dry season. There are a lot of interesting things to do at this time such as cruising on the boat, cycling around villages, walking through paddy fields or enjoying fresh fruit on lush gardens.
If you want to learn more about the culture of local people, take a trip on the Lunar New Year Holiday - the biggest holiday in Vietnam. It occurs at the end of January and the beginning of February. There are loads of activities and traditional foods preparing by locals.
We hope that after reading this post, you can plan your trip more smoothly. Visit our website to get more information about Mekong tours and other guides. If you find this article useful, hit a like and share with others. Thank you!