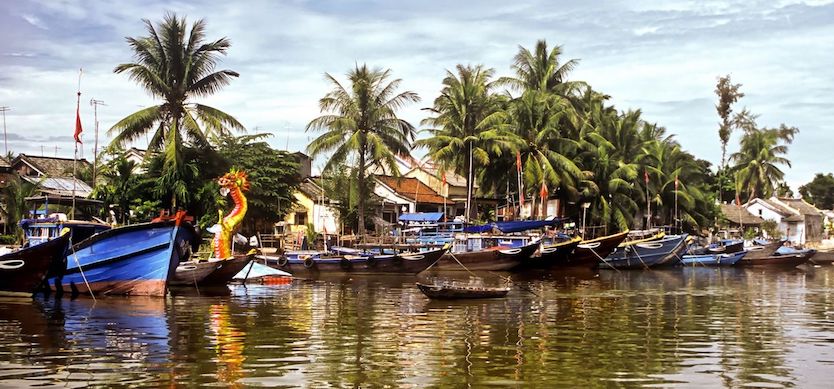 Today, with the development of river tourism, many Mekong River tours are organized in Vietnam for tourists to explore. Usually, tours will welcome guests in Saigon due part to the city's attractions and modern infrastructure.
However, if you do not want to go on tours, you can get to Mekong River from Saigon on your own ways.
Therefore, this article will guide you with all the things you need to know about transferring between Saigon and the Mekong River to get the safest and most convenient trip. Let's find out.
Saigon - Mekong River tours
If you go on tours, you won't have to prepare itineraries or transportation. Instead, just contact to book the tour and choose the type, places you want to go, etc. that are provided by travel agents.
Mekong River tours are very diverse, ranging from 1 day to over 10 days, depending on the number of places you want to explore.
If you go on a 1 or 2-day tour, you will stay in homestays in Ho Chi Minh city, visit rivers, islands, Khmer pagodas, floating markets, rice fields, stilt houses, fruit gardens, and fishing villages in Mekong Delta, Vietnam. Here, you will enjoy meals with seasonal fruits and aromatic honey tea and performances of the Southwest Amateur.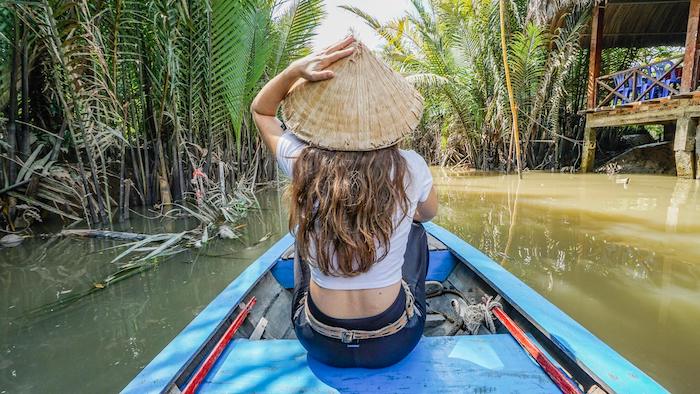 A boat day tour of Saigon - Mekong Delta (barbaralicious.com)
Many cruise tour options will combine travel in the Mekong Delta and several fascinating activities in Phu Quoc Island, Phnom Penh, Siem Reap, and Laos.
Other ways to transfer from Saigon to the Mekong River
Taxi
Although the taxi is very convenient, you should only take a taxi when you need to move between nearby places with groups of more than 3 people. That's because in a far way, going by taxi will be very expensive.
In return, taxis have the advantage of flexible time. That is, you do not need to wait until departure time like a passenger car, so you will have time to do other things like rest or visit more.
Some cheap and reputable taxi companies in Saigon are Mai Linh (028 38 38 38 38), Vinasun (028 38 27 27 27), Savico (028 38 21 21 21), Saigon Air (028 38 118 118), and Saigontourist (028 38 45 8888), etc.
Passenger bus
To reach the Mekong Delta provinces, you go to Eastern bus station at 292 Dinh Bo Linh, Ward 26, Binh Thanh District to buy tickets. Otherwise, you can purchase online tickets on the official website of the bus terminal that is benxemiendong.com.vn. Fares will range from VND 100,000 to 300,000 depending on the distance you need to go.
Note: If you want to go to more remote provinces in the south like Ca Mau, Bac Lieu, or Kien Giang, you should choose a bus that offers soft bed tickets and departs from 10:00 pm - 11:00 pm to rest. When the sun rises, you'll arrive there.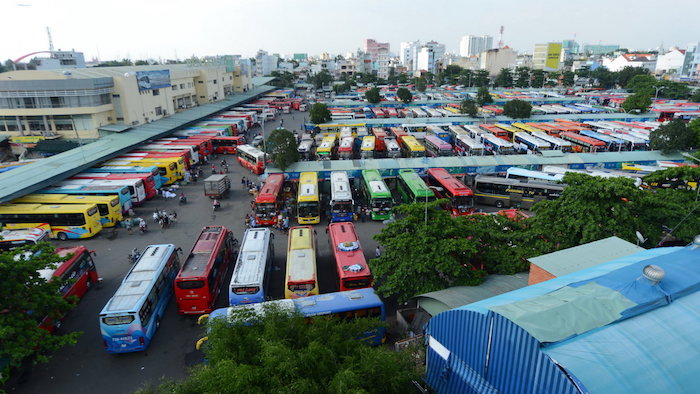 The Eastern Bus Station
Private car
This is very suitable for a large group of travelers or a family. Private cars have from 7 to 16 seats, very comfortable and spacious. Moreover, the cost is cheaper than traveling by passenger bus or taxi, and it is also more private. Therefore, you can negotiate the pick-up time and choose the points you want to visit. Depending on the distance of each location in the Mekong Delta, there will be a different price.
In Saigon, reputable car companies for you to hire include Huynh Gia (098 609 7878), Long Thanh (0902 202 202), Giadinhviet (09 1454 9900), or Doan Khang (083 962 3919), etc.
Rental car/motorbike
If you like the feeling of conquering all the ways to explore life in the Mekong River, going on a motorcycle or a car will be an exciting way for you. Similar to private cars, you contact the addresses above to rent a car.
About motorbike, the rental addresses in here are Bike Saigon (0939 865 562), Thao Dien (090 361 2827), Quang Lap (090 6351 677), or Ms. My (093 882 0813).
To know the way from Saigon to the Western provinces, you should buy a paper map and download the Google Map app. Also, asking the locals is always the best way that they will guide you devotedly.
When traveling, personal documents are undoubtedly essential, including identity cards, driving licenses, and vehicle documents, etc. You also need to prepare windbreakers, backpacks, sunglasses, masks, and raincoats, etc. More importantly, you should not bring too much cash. Every point will have ATMs for you to withdraw money.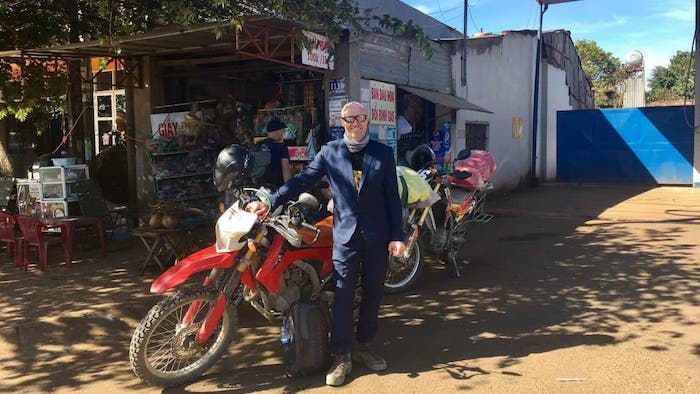 Traveling to the Mekong River by motorbike
Day boat/overnight cruise
When you come to some famous places like Tra Su mangrove forest (An Giang), the Four Holy Animal islets, Cai Rang floating market (Can Tho), etc., there is no other way but to go on the boat.
In Cai Rang floating market, you contact Mr. Thai (093 9729 609) to book tickets. In Tra Su cajuput forest, coming to the tourist area, you will see the fixed price for each service. The boat trip will be about VND 60,000/person.
Particularly in the Four Holy Animal islets (Dragon - Unicorn - Turtle - Phoenix islets), we recommend you to book a boat tour because the Mekong Delta tour package here is relatively cheap, about VND 400,000 - 500,000/guest. Besides, you won't have to worry about your journeys and experiences.
Moving from Ho Chi Minh city to the Mekong River is exceptionally diverse so that you can choose according to your needs. If you need further guides, don't hesitate to let us know. Also, please like and share the article with others if you find it useful for you. Thank you.