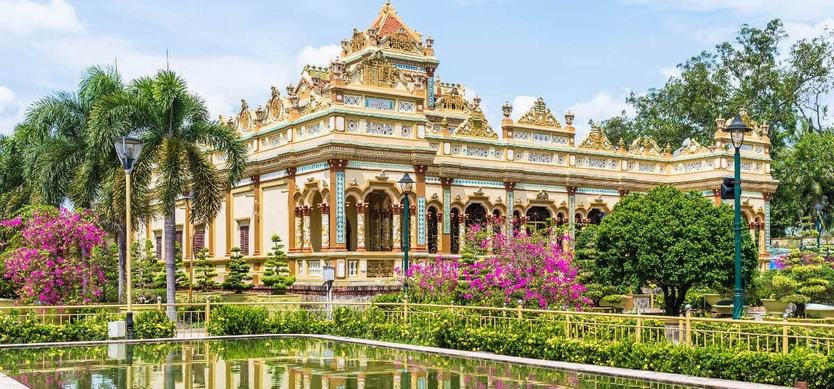 For those who are looking for a peaceful but exciting place to visit, look no further the Mekong Delta.
Located in Southern Vietnam, this region has charmed any tourist's heart who has traveled once.
So, why is the Mekong Delta so attractive? What can we see when coming there?
Keep reading the post below to find the most famous tourist destinations there!
Tra Su Mangrove Forest
Tra Su mangrove forest is located in Van Giao commune, Tinh Bien district, An Giang, nearly 100 km from Long Xuyen city.
Currently, Tra Su Forest is one of the typical attractions for An Giang in flood season with an area of 850 ha.
In addition, this is also a submerged melaleuca forest with rich flora and fauna in the Southwest region.
Coming here, visitors will be overwhelmed by the rows of mangrove trees along the road. Also, you see the rice fields spreading out interspersed rows of high jaggery trees.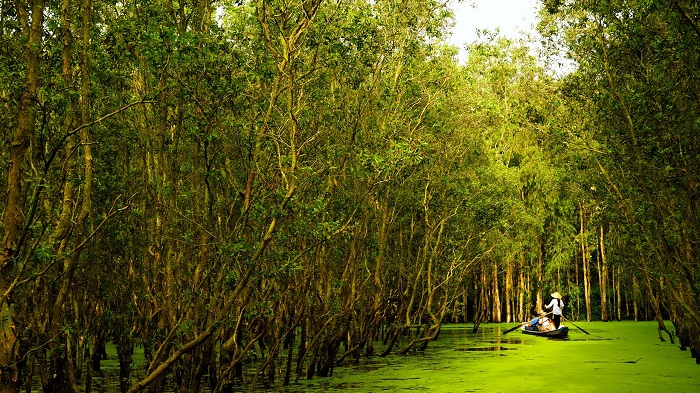 Tra Su Mangrove Forest
Currently, in Tra Su mangrove forest, there are 70 species of birds, 11 species of mammals, 25 species of reptiles and 10 species of fish. In addition, the forest is also home to 140 plant species of 52 families and 102 genera, including 22 species of trees and many other plants.
Tan Lap Village
Located in the center of Dong Thap Muoi, Tan Lap floating village eco-tourism site is in Tan Lap commune, Moc Hoa district, Long An province, about 15 km south of the Cambodian border.
Visiting this floating village, you will be immersed in the unique nature of the Southern region. Tourist area covers about 5ha, including rest houses and management houses, park areas and boat landing areas. The remaining is 130ha of mangrove forest. You can enter the forest by canoe or walk.
If you go in a group, you can camp and sleep overnight in the mangrove forest, enjoy a barbecue or picnic. You can contact the tourist center to rent camps.
The highlight of the mangrove forest is the 38-meter-tall watchtower, where you see and admire the grandeur, vastness of the forest and the longest cement road through the mangrove forest in Vietnam about 5 km.
At the turn of the road through the forest, there will be a boat to pick you up to visit the next point, which is the lotus lagoon area. You can travel to Tan Lap village in October and November so that you can admire the lotus blooming with the fragrant scent.
Windmill fields
From the center of Bac Lieu city, follow Cao Van Lau street to the sea, in the area of Bien Dong A hamlet, Vinh Trach Dong commune, you will come to the windmill field. From a dozen kilometers away, you can see the turbine pillars fitted with propellers like giant pinwheels printed on the sky.
There are 62 towers and wind turbines located on the sea.
Each turbine column is 80m high, 4m in diameter, weighs over 200 tons and is made of stainless steel. 42m long impeller is made of special plastic. When the weather is bad, the propeller can be folded neatly to avoid damage.
Tram Chim National Park
Tram Chim National Park is located in Tam Nong district, Dong Thap province, which became a conservation area since 1994. This is the place with the largest wetland area of Dong Thap Muoi area.
It is recognized as a biosphere reserve (ramsar) Vietnam's 4th and 2,000th world with more than 232 species of birds with many rare and precious species especially red-headed cranes - birds in the world red list of endangered species.
Every year when the water spills over, Tram Chim puts on a new colorful shirt with the brilliant dance of nature. Instead of visiting at dawn, you can start your exploration journey in the afternoon to enjoy the wonderful scenery.
Dong Tam Snake Farm
Dong Tam Snake Farm, also known as pharmaceutical factory Military Zone 9, is located on the bank of Tien River. It covers an area of about 30 hectares, with a cool green space.
This is one of the largest snake farms in Vietnam with more than 400 species and is considered as the first snake museum in Vietnam, attracting many domestic and foreign tourists.
Coming here, you can see many kinds of snakes, from the non-poisonous snakes to the highly poisonous ones. The snakes here are raised freely, including 3 areas suitable for each species: lake-island farming area, poisonous snake farming area, and python culture area.
Are you ready to visit Mekong Delta? Click here to read more about places to visit. If you find this article useful, please share with others. Thank you!