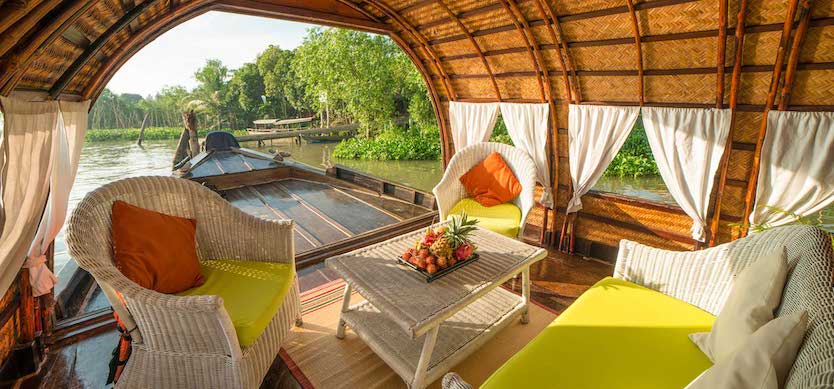 When traveling to one of the world's longest rivers, what do you plan to do? Rowing and walking to explore primeval forest? Visiting the lives of fishers? Or catching stream fish and grilling to enjoy?
When you come to Mekong River, you will experience even more. That is, the river is the intersection of many characteristics of countries that it flows through, is truly a place worth exploring.
In this article, we will give you the unique and interesting things that will make your Mekong trip unforgettable. Let's explore now!
Take a cruise tour
Mekong River cruise tours are the best way to explore the river life.
Joining the Mekong cruise tour, you will have the opportunity to visit many famous spots between Cambodia and Vietnam such as Angkor Complex, Royal Palace, Tonle Sap, etc.
If you don't have much time, then you should spend 4 or 5 days on a Mekong River cruise to Phnom Penh or Siem Reap to sail closer to the local villages and traditional workshops in Vietnam and explore the bustling Ho Chi Minh City in Vietnam.
Bike around villages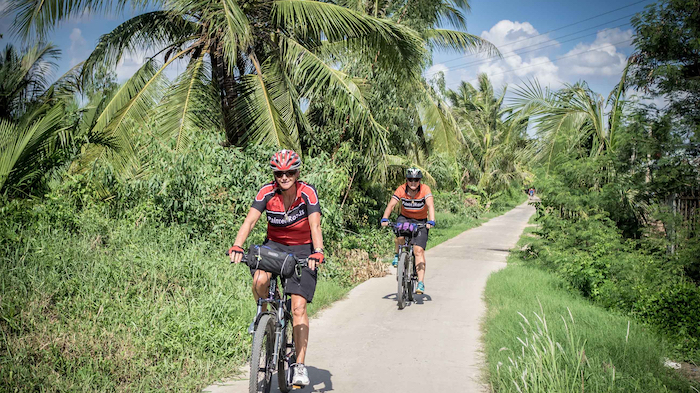 Biking in the Mekong River
After a boat trip to the small islands, you will leisurely walk in the fruit gardens or, more notably, go cycle around the island to visit the scene here. Experiencing the bike tour gives visitors another perspective on the lives of local people with unforgettable impressions.
Usually, cruise tours will offer cycling as an activity included in the schedule. However, if you do not travel by tour, you can rent a bike on the island or ask the hotel you are staying and they will guide or hire for you.
Explore floating markets
Traffic in the Mekong River Basins is mainly boats so floating markets are considered as the spirit of the place. These markets are really worth visiting during your trip to any country in Indochina thanks to their unique beauty.
Countries, where you can visit floating markets, include Vietnam, Thailand, and Cambodia. You will have countless unforgettable memories here such as buying fruits or eating "hu tieu" (Southern-style Pho) on the river, watching the bustling trading scene, etc.
Visit ancient temples
Coming to the Mekong River, you will admire the architectural works of ancient temples in Cambodia such as Wat Hanchey (Kampong Cham), Angkor Wat, a UNESCO World Heritage Site and the world's largest religious complex, Royal Palace or Silver Pagoda, in Laos like Luang Prabang, also known as a World Heritage Site.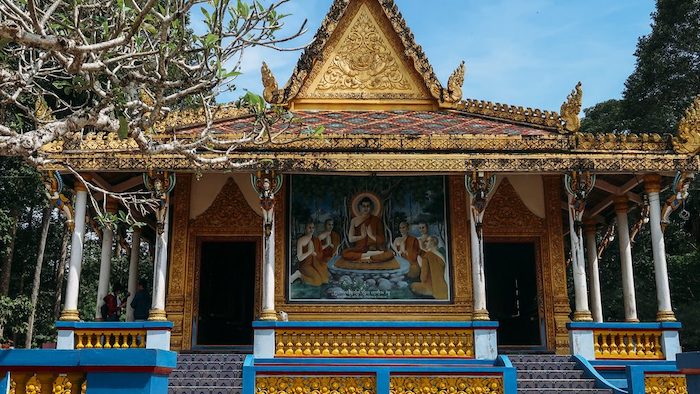 Doi Pagoda in Soc Trang, Vietnam (huynhhieutravel.com)
In addition, some large temples and pagodas in Vietnam have a feature of Champa architecture like Doi Pagoda (Soc Trang), or a combination of Asian and European highlights such as Vinh Trang Pagoda (Tien Giang), or Ba Chua Xu Temple (An Giang), etc.
Take a deeper nature exploration on a boat
The flooding season in the Mekong River is considered to have the most colorful life. The flood brings fertile silt and fish, shrimps, making the landscape like wearing a new coat. Trees are richer and all species also gather here to find food.
If you come here in the flood season, renting a boat to explore the canals will be extremely interesting. If you're lucky, you may experience catching fish by nets with the fishers. Also, the boat will take you to the rice fields, the deep melaleuca forests, or bird sanctuaries, etc.
Sleep in a floating hotel or resort
Currently, many places provide tourists with accommodation services on the Mekong River such as Vietnam, Laos, Cambodia, Thailand, or Myanmar. This is a form of eco-tourism so you can both relax and participate in many activities such as sailing to visit the lives of local people, kayaking, or cycling, etc.
Some prominent hotels and resorts are Mekong Lodge Resort (Tien Giang, Vietnam), The River Resort (Champasak, Laos), Shwe Inn Tha Floating Resort (Inle Lake, Myanmar), River Kwai Jungle Raft Floatel (Kanchanaburi, Thailand), và 4 Rivers Floating Lodge (Koh Kong, Cambodia), etc.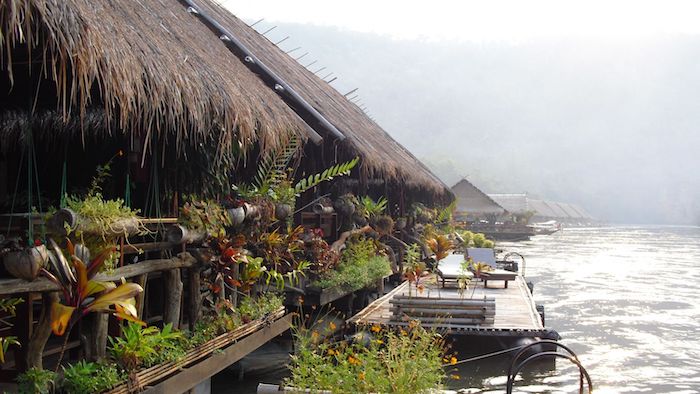 The River Kwai Jungle Raft Floatel in Thailand
As one of the world's largest rivers, the Mekong River has never disappointed visitors by countless interesting activities that it offers. If you need further information about the Mekong Delta tours, feel free to contact us. Don't hesitate to like and share the article with others if you find it useful for you. Thank you.