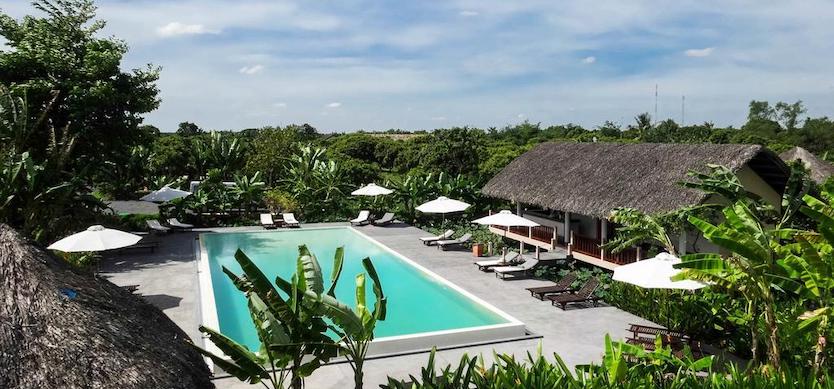 When traveling to the Mekong River, visitors will often choose a cruise tour that floating among water and nature space makes people feel relaxed and peaceful.
However, many people do not want to go on tours but choose to plan a trip themselves. If you are this type, there is a way for you to experience the sleep among the Mekong - the riverside hotels and resorts.
In this article, we will provide you with luxurious accommodations offering spectacular views of the Mekong River in Vietnam, Laos, Thailand, Myanmar, and Cambodia.
Mekong Lodge Resort, Tien Giang, Vietnam
Address: An Hoa, Dong Hoa Hiep commune, Cai Be district, Tien Giang province
Mekong Lodge Resort is an ideal accommodation for nature lovers on an island of the Tien River.
Here, visitors will enjoy many delightful activities and experiences such as sailing to visit the Cai Be floating market, cycling to visit the Dong Hoa Hiep ancient village, traditional craft villages, catching fish by hand, and enjoying fresh fruit at gardens, etc.
The River Resort, Champasak, Laos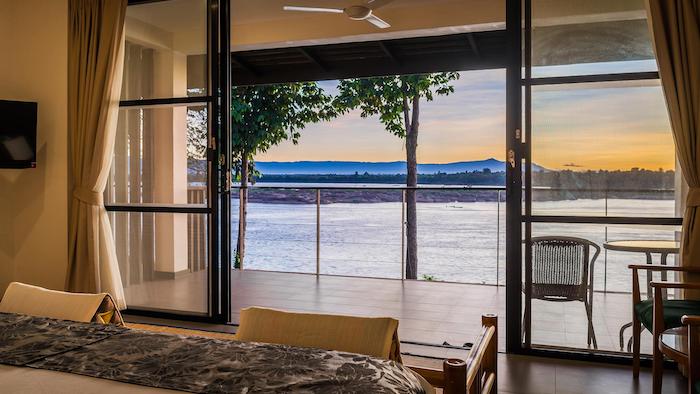 The River Resort, Champasak, Laos
Address: Ban Phaphinnoy, 14A road, Champasak district, Champasak, Lao PDR, 06000
It is a jewel on the bank of the Mekong River, southern Laos. This resort is a haven for casual elegance amid nature. Guests can enjoy the peaceful landscape on the 400-meter Mekong river.
The resort features 28 spacious rooms with panoramic views of the river, rice paddy fields, ponds, and age-old trees.
Shwe Inn Tha Floating Resort, Inle Lake, Myanmar
Address: Thar Lay village, Inle lake, Nyaung Shwe, Shan State, Nyaungshwe 11411
Located in the heart of Inntha tribe territory, the Shwe Inn Tha Resort opened in 1995. This little nest sits on Inle Lake, surrounded by the mist of the Blue Mountains.
There are 33 standard rooms, five deluxe rooms, and two junior suites to choose from. If you have a competitive person, schedule your trip in October when you can take part in the annual Inle Lake boat races.
Muong Thanh Luxury Can Tho Hotel, Vietnam
Address: Zone E1, Cai Khe islet, Cai Khe ward, Ninh Kieu district, Can Tho city
Muong Thanh Luxury Can Tho Hotel is located in a prime location, in front of Cai Khe islet roundabout. With 27 floors, from the hotel windows, visitors can watch the sunshine in the early morning on Hau river or take a look at the majestic Can Tho bridge, bustling city.
River Kwai Jungle Raft Floatel, Kanchanaburi, Thailand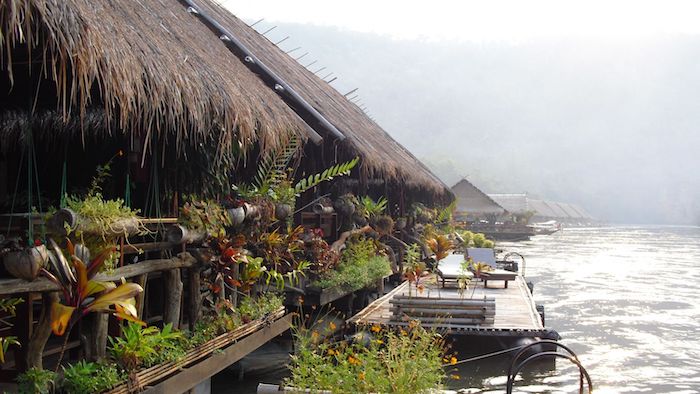 The River Kwai Jungle Raft Floatel (333travel.nl)
Address: Baan, Tambon Tha Sao, Amphoe Sai Yok, Chang Wat Kanchanaburi 71150
The River Kwai Jungle Raft Floatel is a rustic floating village in Kanchanaburi that's been around since 1976.
Its bamboo rooms are connected in a long row along the banks of the River Kwai. Tourists can lie on hammocks to experience peaceful space while talking with each other.
There's no electricity, so things are definitely quiet at night. During the day, you can sunbathe as well as swim here.
The Island Lodge, My Tho, Vietnam
Address: 390 Thoi Binh hamlet, Thoi Son islet, My Tho city, Tien Giang
Nestled in a fruit island in the Mekong, its rooms and impressive pool offer a row of seats for guests to admire the river scene. The hotel is a beautiful combination of luxury French and traditional Vietnamese styles.
Staying here, you'll have a chance to explore the local life in Mekong Delta through the image of boats constantly chugging past, the sounds of moped horns and karaoke bars, and more. Besides, you can join many activities like exploring the river by boat, authentic markets, or biking around villages, etc.
La Folie Lodge, Laos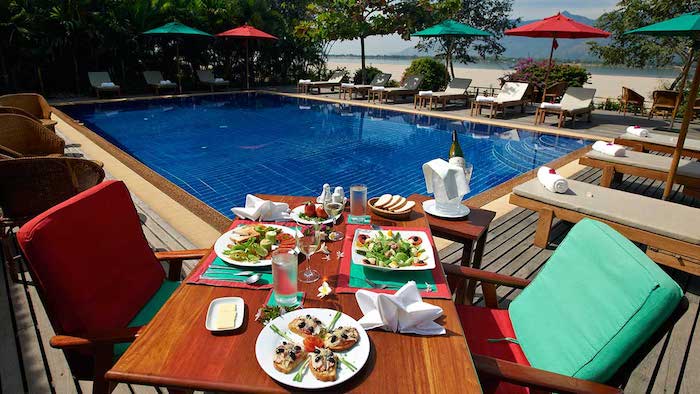 The La Folie Lodge, Laos
Address: Done Daeng, District Pathoumphone, BP 668 Champassak, Lao PDR
Set on the riverbank facing Wat Phu temple, La Folie makes the most of the views. The gorgeous wooden bungalows have lots of attention to detail, including Lao textiles, colonial motifs, and polished wood floors. The restaurant which is set next to a pool includes a wide selection of traditional and international dishes.
Float House River Kwai, Kanchanaburi, Thailand
Address: 55 Moo 5 Tambol Wangkrajae, Amphur Saiyok, Kanchanaburi 71150
Similar to River Kwai Jungle Raft Floatel, the Float House River Kwai is also a resort with many floating rooms connected on the River Kwai.
This resort is full of utilities, constructed from local materials. The Float House has wifi, a DVD player, and a 32-inch LCD screen as well as a private pier and balcony over the water. The decor is best described as "folksy Thai."
4 Rivers Floating Lodge, Koh Kong, Cambodia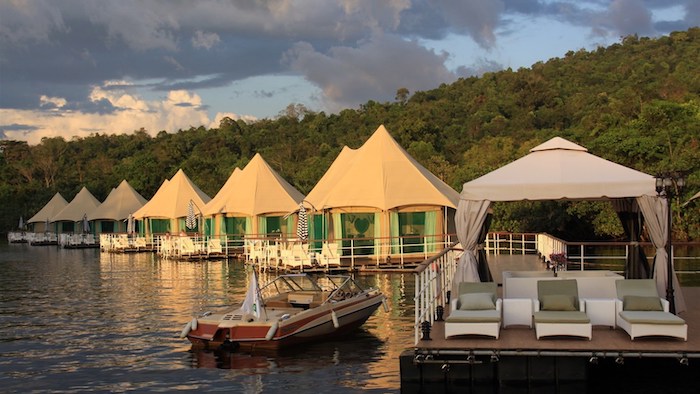 The 4 Rivers Floating Lodge, Koh Kong, Cambodia
Address: Koh Andet island, Tatai
The 4 Rivers Floating Lodge is a luxury floating system of rooms on the Mekong River. The spacious rooms are equipped with a flat-screen television, Wi-Fi, and mini-bar.
The accommodation looks simple but the decor is so rich. It was designed to combine luxury with ecology, offering a top-end experience with minimal impact on the surrounding environment.
Staying in a hotel and resort which offers a view to the Mekong River will be one of the most wonderful and memorable experiences for you. For further information about the Mekong Delta package tours, feel free to contact us. If you find the article useful for you, don't hesitate to like and share it with others. Thank you.